Dr. Ellis @DrAnneEllis: Next up Dr. Michael Wechsler from National Jewish Health center in Denver "Future role of biologics beyond asthma and atopic dermatitis".
Complex interactions between the Type 2 cytokines IL-4, 5, 13 - key and central drives of Type 2 inflammation with broad effects.
Other type 2 driven diseases - eosinophilic esophagitis (EoE), EGPA, chronic eosinophilic pneumonia, chronic rhinosinusitis (CRS) with or without nasal polyps, allergic rhinitis, AERD.
All have many features in common - epithelial barrier dysfunction, tissue remodeling, microbiome alterations.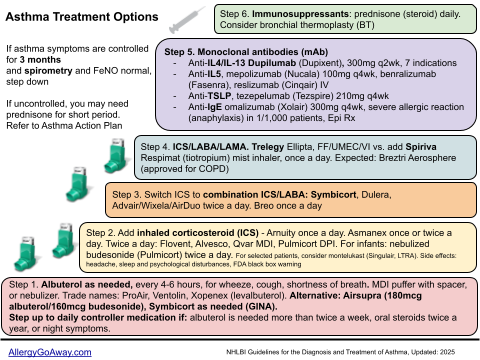 Asthma Treatment Options
(click to enlarge the image).
Eosinophilic granulomatosis with polyangiitis (EGPA, formerly known as Churg-Strauss syndrome) - essentially an eosinophilic vasculitis that presents with asthma, eosinophilia, rash, neuropathy.
Mepolizumab (anti IL-5) was shown in a pilot study conducted by Dr Wechsler - relapse rate reduced by 50% while reducing steroid dosing by 50% as well.
MIRRA EGPA Mepolizumab study - 78% of patients treated with anti IL-5 achieved one of 3 outcomes - remission, more than 50% reduction in steroid dose, or relapse free compared to 32% of placebo treated patients.
Benralizumab (anti-IL5R) also has been shown to be highly efficacious in the treatment of EGPA as well, not surprisingly.
Chronic Rhinosinusitis (CRS) - more than 500,000 sinus surgeries performed per year in the US for patients who fail medical management. Unfortunately benefits often not long lasting.
Dupilumab
(anti-IL4R) already approved in the USA for CRS with nasal polyps. Symptoms improve early.
Polyps regress significantly after 10 injections
. Dupilumab reduced the proportion of patients who used systemics steroid for any reason or sino-nasal surgery.
Both mepolizumab and omalizumab have published positive results of the treatment of CRS with nasal polyps.
Unfortunately results of anti-Il5 for EoE have been disappointing. Need to move on to anti-IL5R or anti-IL4/13 for benefits to be seen.
Allergic bronchopulmonary aspergillosis (ABPA) anti-IgE and anti-IL5 have been used/reported to good effect - no RCT's, however.
Dr. Wechsler finds FeNO a very useful biomarker. Often persistently elevated in patients who fail anti-IgE or anti-IL5 based therapies.
Previously, we believed FeNO was a biomarker of eosinophilic inflammation. Clearly, it can't be just that if it remains elevated after you deplete all eosinophils with anti-IL5 therapy. Recent work suggests it's IL-13 mediated.
Dr. Wechsler uses FeNO to select dupilumab earlier. If FeNO is not that elevated, will turn to eosinophil count to choose an anti-IL5 therapy, if eos are not high, he looks at IgE levels.
If all 3 biomarkers are low he goes on to more in depth evaluations to rule out mimickers
.
I would argue that
if any patient is at the point where you are considering a biologic, the work up to rule out non-asthma is mandatory
.
Important to remember that all the
biologics reduce exacerbations by ~50%. They don't eliminate them
. Over time the exacerbations tend to be driven by Type 1 inflammatory processes (e.g. viral infections).
GERD, vocal cord dysfunction (VCD) are important complicators of severe asthma (not complications).
Bronchial thermoplasty (BT) can be helpful for those patients who are not TH2 high (low IgE, low Eos, low FeNO).
Azithromycin also useful add on for Th2 low asthma - 500 mg three times per week
shown to reduce exacerbations in patients who continue to exacerbate despite adherence to ICS/LABA.
Patients who fail to respond to mepolizumab were able to get their sputum eosinophils finally reduced when switched to reslizumab in a study by Dr. P Nair.
Being allergic vs. non-allergic doesn't predict response to Spiriva.