The risks are not new
The same concerns were expressed by the FDA 5 years ago (in 2009). A large study is still ongoing and the data will be available soon. The FDA did not provide any numerical assessment of risk (absolute, relative risk or number needed to harm) but they felt strongly enough to add the cardiovascular warnings to the label in 2014. The exact calculation of risk was not provided in the report, issued after 5 PM on a Friday.
The FDA added information about the increased risk to the drug's label after analyzing findings from a five-year safety study submitted by the drug's manufacturer, Genentech, a unit of Roche, and 25 clinical trials comparing Xolair to a placebo.
Xolair is an injectible drug that was originally approved in 2003 to treat moderate to severe asthma in adults and children aged 12 or over whose condition was not controlled by inhaled steroids. In 2014, the drug is also approved to treat chronic idiopathic urticaria (hives), in adults and adolescents. It is marketed jointly by Roche and Novartis AG. In 2013 it generated total sales of $1.5 billion.
What exactly is the risk?
From the FDA report: Our review of a 5-year safety study found a slightly higher rate of heart and brain blood vessel problems occurred in patients being treated with Xolair compared to those patients not treated with Xolair (
http://clinicaltrials.gov/show/NCT00252135
). The heart and brain blood vessel problems included mini-strokes known as transient ischemic attacks or TIAs; heart attacks; sudden, unexpected chest pain; high blood pressure in the arteries of the lungs called pulmonary hypertension; and blood clots in the lungs and veins. Although the data are suggestive of a serious safety signal, due to weaknesses in how the safety study was designed and carried out, we are unable to definitively confirm or determine the exact increased level of these risks with Xolair.
To further evaluate the heart and brain risks noted in the 5-year safety study, we reviewed a combined analysis of 25 randomized double-blind clinical trials comparing Xolair to a placebo, a treatment that does not contain any medicine. An increased risk of heart- and brain-related problems in patients treated with Xolair was not noted in this combined analysis, but the low number of these events, the young patient population, and the short duration of follow-up prevent us from making any definite conclusions about the absence of a risk. As a result of our review of the safety study and the combined clinical trials, we have added information about the potential risks of heart- and brain-related problems to the Adverse Reactions section of the drug label.
How does omalizumab increase cardiovascular risk?
The exact mechanism is unknown at this time. Omalizumab decreases release of proinflammatory mediators, some of which have vasodilatory effect and may affect the coagulation system (
see the figure here
). Whether interfering with these leads to a pro-coagulant state is not yet clear.
What to do?
Risks and benefits of using Xolair must be discussed with all patients, including the new FDA warning. The full report of the
EXCELS safety trial
should be published soon and then we will have a numerical basis to start the discussion, for example, the number needed to harm (NNH), etc.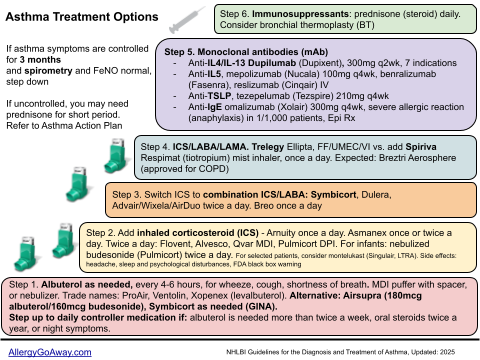 Asthma Treatment Options in 6 Steps
(click to enlarge the image).
References:
FDA Drug Safety Communication: FDA approves label changes for asthma drug Xolair (omalizumab), including describing slightly higher risk of heart and brain adverse events
http://1.usa.gov/1CCaY0Z
Images:
Mechanisms of action of omalizumab
Image source:
Wikipedia
, public domain.