Here are my suggestions for some of the top articles about
food allergy
for May 2014:
Primary prevention of food allergy in children and adults: no good evidence for any intervention
http://buff.ly/1dDNmNG
"Dude! You mean you've never eaten a peanut butter and jelly sandwich?!?" Nut allergy as stigma in comic books
http://buff.ly/1cUS7ip
Serum basal tryptase may be a good marker for predicting risk of anaphylaxis in children with food allergy
http://buff.ly/MoaiIc
Due to amount of time children spent in bedroom, mattress dust may be important source of exposure to food allergens
http://buff.ly/1drGNdL
Mothers of food-allergic children (aged 8-16) have increased anxiety and stress. Children anxiety was not found
http://bit.ly/1eziXDh
Primary prevention of food allergy in children and adults: very little evidence
http://buff.ly/1ntZAuB
Management of food allergy: encouraging studies for OIT but evidence is questionable, often with adverse effects
http://buff.ly/1ntZK56
No evidence to support the use of prebiotics or probiotics for food allergy prevention
http://bit.ly/1khsX7F
Food Allergy Education for the Newly Diagnosed Pediatric Patient - part 1 and 2 (free full text)
http://buff.ly/1l5hBmp
and
http://buff.ly/1l5hJ5w
State of the art on food allergen immunotherapy: Oral, sublingual, and epicutaneous
http://buff.ly/1gSp1m5
- Behind paywall, unfortunately.
Oral immunotherapy for peanut allergy in children (STOP II) trial: desensitisation was achieved in 62% of patients
http://buff.ly/1ipbTJJ
Saga of food oral immunotherapy: previous conclusions that OIT is safe and effective might be somewhat subjective. OIT remains experimental, not ready for clinical use until side-effects are known. OIT studies with milk show participants developing EoE or redeveloping the allergy after tolerating therapy. It is important to understand that OIT research cannot be rushed, and is years away from routine clinical use
http://buff.ly/1ipdwag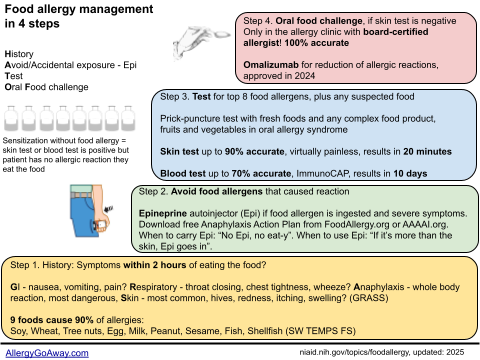 Food allergy management in 4 steps (
click to enlarge the image
).
The articles were selected from Twitter @Allergy and RSS subscriptions. Some of the top allergy accounts on Twitter contributed links. I appreciate the curation provided by @Aller_MD @AllergyNet @IgECPD @DrAnneEllis @AACMaven @AllergieVoeding @allergistmommy @mrathkopf @wheezemd.
Please feel free to send suggestions for articles to AllergyGoAway AT gmail DOT com and you will receive an acknowledgement in the next edition of this publication.
Image source:
Wikipedia
, GNU Free Documentation License.