On April 8, 2020, the U.S. Food and Drug Administration approved the first generic of Proventil HFA (albuterol sulfate) Metered Dose Inhaler, 90 mcg/Inhalation, for the treatment or prevention of bronchospasm in patients 4 years of age and older who have reversible obstructive airway disease/asthma, as well as the prevention of exercise-induced bronchospasm (EIB).
According to the National Heart, Lung, and Blood Institute, bronchospasms occur when the muscles surrounding the airways swell and tighten, causing them to squeeze the airways and make them smaller. Exercise and other physical activity can bring on symptoms in most people who have asthma and may occur either during or right after being active. Asthma causes recurring periods of wheezing (a whistling sound when breathing), chest tightness, shortness of breath and coughing. The coughing often worsens at night or early in the morning. Asthma affects people of all ages, but it most often starts during childhood. In the United States, more than 26 million people are known to have asthma, about 7 million of these people are children.
The most common side effects associated with Albuterol Sulfate Metered Dose Inhaler, 90 mcg/Inhalation, are upper respiratory tract infection, rhinitis, nausea, vomiting, rapid heart rate (tachycardia), tremor and nervousness.
The lowest GoodRx price for the most common version of albuterol is around $23.13, 57% off the average retail price of $54.09:
https://www.goodrx.com/albuterol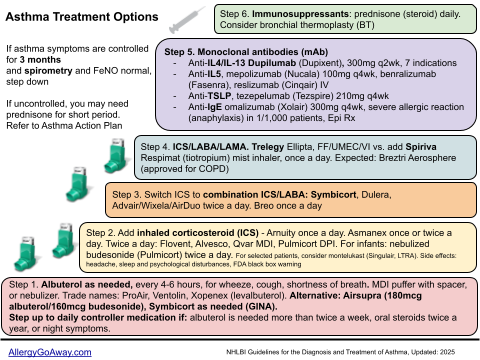 Asthma Treatment Options
(click to enlarge the image).
References:
https://www.fda.gov/news-events/press-announcements/fda-approves-first-generic-commonly-used-albuterol-inhaler-treat-and-prevent-bronchospasm