Dupilumab decreased asthma exacerbations by 50% and increased FEV1 by more than 300 ml. This is truly a game changer in treatment of moderate to severe asthma. The study was published in the "best medical journal in the world", NEJM, the references are below.
Dupilumab is a fully human anti–interleukin-4 receptor α monoclonal antibody that blocks both interleukin-4 and interleukin-13 signaling. The dose of dupilumab, 300 mg, is the same as the improvement in FEV1, 300 ml.
It is administered by patients at home, every 2 weeks. This is different from the other monoclonal antibodies for treatment of asthma which are administered in clinic under physician observation.
Dupilumab is already approved for treatment of atopic dermatitis.
In this trial, patients who received dupilumab had significantly lower rates of severe asthma exacerbation than those who received placebo, as well as better lung function and asthma control. Greater benefits were seen in patients with higher baseline levels of eosinophils. Hypereosinophilia was observed in some patients.
By the end of 2018, there will likely be a change in the stepwise treatment of asthma below: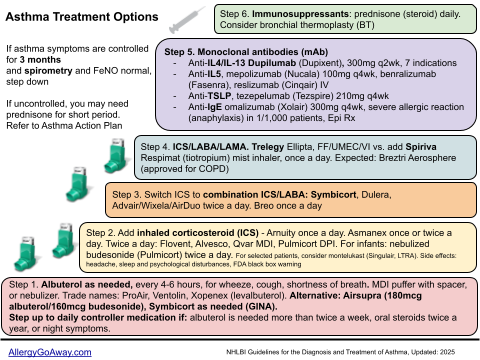 Asthma Treatment Options
(click to enlarge the image).
References:
Dupilumab Efficacy and Safety in Moderate-to-Severe Uncontrolled Asthma | NEJM
https://buff.ly/2rXX2AP
Efficacy and Safety of Dupilumab in Glucocorticoid-Dependent Severe Asthma | NEJM
https://buff.ly/2rXoheW
New Biologics for Asthma | NEJM
https://buff.ly/2IFTQ3j