A
food allergy
is an adverse immune response (typically IgE-mediated) triggered by a specific food. Food allergy affects between 3% and 8% of people.
The researchers sought to determine the prevalence of food allergy and intolerance documented in the electronic health records (EHRs). They used allergy data from a large health care organization's EHR (Division of General Medicine and Primary Care, Brigham and Women's Hospital, Boston, Mass) between 2000 and 2013.
There is a possible error right the at beginning of abstract: "Data were validated using radioallergosorbent test and ImmunoCAP results." Radioallergosorbent test (or RAST) has not been in clinical use in the US for years. I have not seen a RAST test report at least since 2007, while working with tens of thousands of patients. More info here:
https://www.foodallergy.org/life-food-allergies/food-allergy-101/diagnosis-testing/blood-tests
Back to the results of the study: Among 2.7 million patients, close to 100,000 patients (97,482, to be exact) 3.6%) had 1 or more food allergies or intolerances.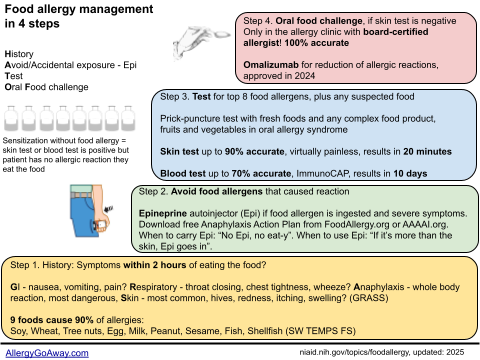 Food allergy management in 4 steps (
click to enlarge the image
).
The prevalence of food allergy and intolerance was higher in females (4.2% vs 2.9%) and Asians (4.3% vs 3.6%).
The most common food allergen groups were shellfish (0.9%), fruit or vegetable (0.7%), dairy (0.5%), and peanut (0.5%).
This bring another important point: the term "dairy allergy" should be abandoned and replaced with "milk allergy". The explanation is here:
https://www.foodallergy.org/about-fare/blog/know-the-difference-milk-allergy-vs-dairy-allergy-vs-lactose-intolerance
Of the 103,659 identified reactions to foods, 16% were anaphylactic. About 20% of patients with reported peanut allergy had a radioallergosorbent test/ImmunoCAP performed (see above for RAST).
Adverse Food Reactions (
click to enlarge the image
).
References:
Prevalence of food allergies and intolerances documented in electronic health records. Warren W. Acker et al. JACI,December 2017, Volume 140, Issue 6, Pages 1587–1591.e1
http://www.jacionline.org/article/S0091-6749(17)30672-3/fulltext