In the last decade, the proportion of people with asthma in the USA grew by nearly 15%
, with 479,300 hospitalizations and 1.9 million emergency department visits in 2009 alone.
The researchers
queried the HCUP's Nationwide Inpatient Sample (NIS) between 2001 and 2010 using the ICD9-CM diagnosis code 493 for asthma (760,418 patients). The NIS represents 20% of all hospitals in the USA.
The overall length of stay (LOS) was 3.9 days and as high as 8.3 days in patients requiring mechanical ventilation. LOS has decreased in recent years, though it continues to be higher than in 2001. The hospitalization cost increased steadily over the study period. The overall in-hospital mortality was 1% and as high as 9.8% in patients requiring mechanical ventilation. Predictors of higher LOS, hospitalization costs and in-hospital mortality included
increasing age and hospitalizations during the winter months
. Private insurance was predictive of lower hospitalization costs, LOS, and in-hospital mortality.
Asthma continues to account for significant in-hospital mortality and resource utilization, especially in mechanically ventilated patients. Age, admissions during winter months and the type of insurance are independent predictors of in-hospital outcomes.
Here is what wheezing sounds like (click to play the embedded video):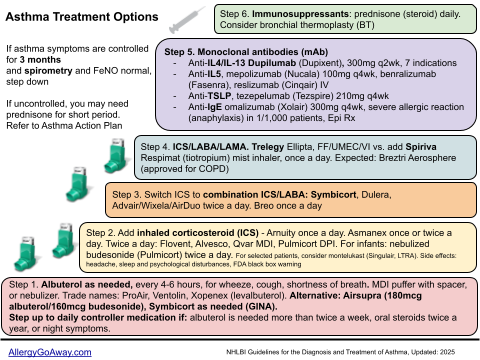 Asthma Treatment Options in 6 Steps
(click to enlarge the image).
Differential diagnosis of cough. Click
here to enlarge the image
Asthma Inhalers
(click to enlarge the image).
References:
Asthma: Hospitalization Trends and Predictors of In-Hospital Mortality and Hospitalization Costs in the USA (2001-2010). Kaur BP, Lahewala S, Arora S, Agnihotri K, Panaich SS, Secord E, Levine D. Int Arch Allergy Immunol. 2015 Nov 24;168(2):71-78. [Epub ahead of print]
http://www.ncbi.nlm.nih.gov/pubmed/26595589
Disclaimer: I have been the Editor of the World Allergy Organization (WAO) Small Airways Working Group "What's New?" monthly summary since 2011. The summary features the top 3 asthma/small airways articles each month. The article above is part of the project. The archive is here:
http://www.worldallergy.org/small_airways_group/reviews/archive.php
Image source: Image source: FDA and Wikipedia,
public domain
.