The first recombinant C1-esterase inhibitor, Ruconest, was approved by the FDA as a new therapeutic option for hereditary angioedema (HAE). It is a treatment for acute episodes of HAE in adults and adolescents.
Ruconest is derived from the milk of genetically modified (transgenic) rabbits, and relieves HAE symptoms by restoring plasma C1-esterase inhibitor to normal levels. It is manufactured by Pharming Group in Leiden, the Netherlands.
HAE is rare and it affects an estimated 6,000 to 10,000 Americans. This explains why the FDA approval was obtained on the basis of a small trial with 44 patients. Ruconest-treated patients had a time to onset of symptom relief of 90 minutes vs. 152 minutes in placebo-treated patients (P=0.031).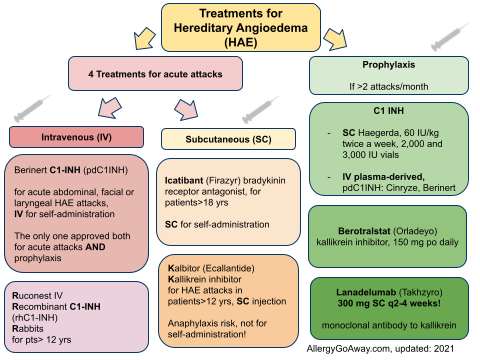 Treatments for Hereditary Angioedema (HAE) (
click to enlarge the image
).
References:
FDA approves new product to treat rare genetic disease http://buff.ly/1nhaAAD