The Wellapets
app has a fire breathing dragon. The pet is part of a video game that aims to help children with
asthma
.
When playing 'Wellapets' children must give their pet dragon a maintenance inhaler twice a day, just like many of them have to do in real-life. The game also aims to teach them to recognize symptoms and avoid asthma triggers like dust and smoke.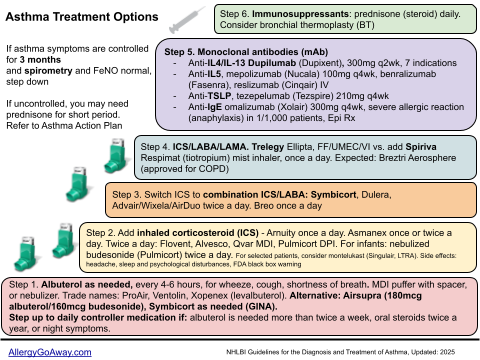 Asthma Treatment Options in 6 Steps
(click to enlarge the image).
If the free asthma app is a success, the developers are looking at other games geared toward food allergies, diabetes, and childhood obesity.
The game looks like fun, but I'm not sure if the patients learn many useful skills, as the educational part is not really front and center, and that's by design. One of the founders said: "We initially made the mistake of building a game around educational objectives, rather than weaving educational objectives into a game, but through several rounds of testing and collaboration with industry veterans, we arrived at a more cohesive design." See for yourself how it all works in the video below:
References:
Gamifying Asthma Education with Wellapets [INTERVIEW]
http://buff.ly/1jaRV37
Boston Company Builds Gaming App For Children's Health « CBS Boston
http://buff.ly/1jaS2vJ
http://www.wellapets.com
https://twitter.com/Wellapets